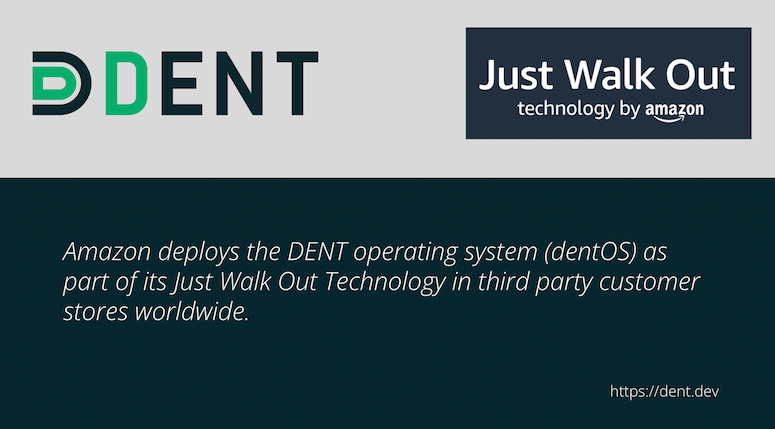 Amazon deploys open source NOS to automate more efficient customer experience with Just Walk Out technology
Large-scale deployment by global enterprise commerce leader signals new level of maturity for open source Networking Operating System
Growing ecosystem of members & collaborators across enterprises, silicon vendors, ODMs, OEMs, and System Integrators, demonstrates deployment readiness for disaggregated hardware
The DENT Project, an open source ecosystem utilizing the Linux Kernel, Switchdev, and other Linux based projects, announced member company Amazon has deployed the DENT operating system (dentOS) as part of its Just Walk Out Technology in third party customer stores worldwide to streamline the customer experience and scale in-store operations.
The need for retailers to innovate quickly in the pandemic era depends highly on the network to power the in-store components that enable more seamless and touchless experiences, like grab-and-go and electronic shelf labels. The number of devices, such as IP cameras and sensors, needed to enable these features require massive, edge switching and processing. Disaggregated hardware and open-source collaboration is needed to scale and accelerate standardization at the network edge.
DENT provides access to open source based switches at a lower cost and more flexibility compared to proprietary switches with locked ecosystems. DentOS enables the Just Walk Out Technology to connect and manage thousands of devices like cameras, sensors, entry and exit gates, and access points on the network edge.
"Adoption and deployment by the world's largest e-commerce leader with its Just Walk Out Technology is a shining example of the power of open source," said Arpit Joshipura, general manager, Networking, Edge and IoT, the Linux Foundation. "In just three years, the DENT community created a working platform for disaggregated networks to power multiple device locations at the edge, now used by top retail giants to streamline operations. This undertaking is only possible by the power of collaborative open source development."
"We are pleased to leverage the DENT open-source platforms to power networking infrastructure to enable customers to skip check-out lines with our Just Walk Out Technology," said Jason Long, Head of Networking for Amazon Physical Retail Technology and Chairman of the DENT Board. "DENT enabled us to reduce our networking costs by giving us access to open-source switches that allowed Amazon to efficiently deploy new hardware and software whenever we need instead of waiting for a bug fix from a third-party vendor".
"With its cost-effective cloud managed networking products, Quantum Networks has established itself as a reliable partner, especially in emerging markets," said Mukesh Majithia, Director (Technical), Quantum Networks. "Our collaboration with the DENT community and Sartura is intended to build a roadmap for market-required features. Being able to provide a better service to our customers through the use of Open Source technologies is what sets us apart from traditional vendors at a lower price."
DENT at ONE Summit
The announcement was shared during the ONE Summit opening keynote address in Seattle, Wash. ONE Summit is the one industry event that brings together decision makers and implementers for two days of in-depth presentations and interactive conversations around 5G, Access, Edge, Telco, Cloud, Enterprise Networking, and more open source technology developments.
The DENT community also hosted a collocated workshop to provide details on the NOS' architecture, use in Distributed Edge scenarios, compatible hardware and how DENT impacts and contributes to the upstream Linux kernel.
More information about DENT is available at https://dent.dev/.
Ecosystem Support:
Babtel
"It is imperative that we provide reliable, private, and secure communications to US soldiers and military contractors overseas. Achieving our mission requires agility and resilience." said Peter Catranis, CTO, Babtel. "With our joint efforts with Sartura, we have been able to leverage leading Open Source software extensively. Today these technologies are being adopted by a variety of industries, which of course benefits everyone."
Keysight
"Keysight has been involved with DENT since its inception because we are eager to drive the success and adoption of open-source communities," said Dean Lee, Senior Director, Cloud Solution Unit, Keysight. "We are hosting the community system integration lab which provides multi-vendor interoperability testing to make DENT robust and drive customer POCs successfully. We are delighted to see the fruits of these labors come to fruition through Amazon's pioneering deployment of DENT components in its retail stores."
TELUS
"Our collaboration with Sartura around DENT, switchdev, and mainline Linux simplifies our support model for data centers and central offices," said Paul Arola, Senior Design Specialist, TELUS. "With no reliance on proprietary SDK's, we can rapidly deploy new software releases, and security patches with an agility that is not possible with traditional switch NOS".
Sartura
"Sartura is one of the key organizations which has consistently delivered on the promise of a modern disaggregated network infrastructure. By providing professional services, our team empowers our partners and customers to utilize state-of-the-art open source networking technologies," said Luka Perkov, CEO, Sartura. "We have been devoted to making Linux-based networking technologies more accessible to the broad market, and the market is responding favorably. Those that place a high importance on security, flexibility, and openness have found our efforts particularly appealing. As we move forward, our activities will be directed towards further developing the ecosystem."
Quantum Networks
"With its cost-effective cloud managed networking products, Quantum Networks has established itself as a reliable partner, especially in emerging markets," said Mukesh Majithia, Director (Technical), Quantum Networks. "Our collaboration with the DENT community and Sartura is intended to build a roadmap for market-required features. Being able to provide a better service to our customers through the use of Open Source technologies is what sets us apart from traditional vendors at a lower price."